EXPERT
I like to use it as a replacement for mayonnaise in salads with creamy dressings, pureed cottage cheese can also work
EXPERT
Excellent question! I love Greek yogurt not just for its delicious, tart, thick, and creamy texture, but also for its versatility. Sweet or savory, Greek yogurt can satisfy both your sweet and savory teeth ;)
The following recipes use low fat Greek Yogurt

Sweet:
*Replace some of the butter and oil with Greek yogurt and cut calories and fat in half, while adding moisture and protein
* Blend Greek yogurt with your favorite fruit to make your own sweet yogurt, instead of buying sweetened yogurt that's full of added sugars and/or artificial sweeteners
*Blend Greek yogurt with berries or bananas, and some vanilla extract and fill dome popsicle containers to make your own frizen yogurt

Savory
*Add 1 tbs extra virgin olive oil, 1 small chopped garlic clove, 2 tbs fresh lemon juice, zest of 1 lemon, 1 tablespoon fresh chopped mint, 1 tablespoon toasted chopped pistachios and use as a dressing for any vegetable
* Add 2 tablespoons of Greek yogurt to a baked sweet potato and top with a teaspoon of pumpkin seeds. Drizzle with a teaspoon of olive oil for a nutrient-packed snack or meal.
*Add Greek yogurt instead of heavy cream when making creamy soups. You can also use it to replace sour cream

I hope you will enjoy these recipes and get creative and have fun making your own. Bon Appetit! :)
EXPERT
Here's a recipe you can have a lot of fun with!! I use Greek yogurt to make this savory spread that everyone loves. I call it:

Pamela's Yummy Yogurt Spread and Dip
It's made from excellent quality Greek yogurt and other healthy, yummy ingredients. Use this as a morning spread on your favorite whole grain bread, or as an addition to a salad at lunch, or as an appetizer for dinner and party guests!

It's so versatile…and two tablespoons have only 45 total calories, with just 25 calories from fat.
You can make it without a food processor, which means far less clean-up. You simply need a medium mixing bowl, a cutting board, a chef's knife, and a spoon. That's it, no messing with a food processor…here's to your health!
Ingredients:
One 7 oz cup of Fage 2% yogurt
Depending upon your taste – use:
¾ -1 Tbsp of fresh cilantro, finely minced
¾ -1 Tbsp of chives, finely minced
If you like more cilantro than chives use the larger measure, or if your taste is more aligned with chives, use the larger measure of chives.
1 clove fresh garlic, finely minced
1 Tbsp extra virgin olive
optional -1 tsp agave nectar
Instructions:
1- In medium-sized mixing bowl, empty yogurt container.
2- Add minced cilantro and chives. Mix well with a spoon.
3- Add minced garlic and mix well with a spoon.
4- Add olive oil and mix well.
5- Add agave and mix well.
*Serve on bread, crackers, inside celery, or use as a dip…enjoy!
Pamela Warren, Nutritionist, MS, CHN I am a weight loss expert and I work with the clinical implications of illnesses and their treatment and prevention with whole foods. I work with each individual to find the best solution to reach balance. I use complimentary and alternative nutrition and merge this with years of clinical expertise. I have worked in medical centers in NYC and with private physicians. You can work with me to create balanced health for the rest of your life.
Available by appointment: 917-842-0177
Email: pamelawarren8@gmail.com
Web: www.artofconsciousliving.com
Check-out what others are saying about me!
Greek Lemon Cake
So this isn't the healthiest recipe, but it's REALLY good. And the greek yogurt makes the cake super moist!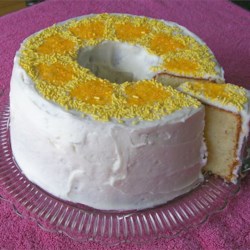 INGREDIENTS:


3 cups cake flour

1 teaspoon baking soda

1/4 teaspoon salt

6 eggs

2 cups white sugar

1 cup butter, softened

2 teaspoons grated lemon zest

2 tablespoons lemon juice

1 cup plain greek yogurt

DIRECTIONS:
1.Preheat oven to 350 degrees F (175 degrees C). Grease one 10 inch tube pan.
2.Sift the flour, baking soda, and salt together. Set mixture aside.
3.Separate the eggs. In a large bowl beat the egg whites until soft peaks form. Gradually add 1/2 cup of the sugar, beating until stiff glossy peaks form. Set aside.
4.Cream butter or margarine, 1 1/2 cups sugar, egg yolks, lemon zest, and lemon juice together until fluffy. Add flour mixture alternately with the yogurt to the egg yolk mixture. Gently fold in the egg whites and pour the batter into the prepared pan.
5.Bake at 350 degrees F (175 degrees C) for 50 to 60 minutes. Let cake cool in pan for 10 minutes, then turn out onto a rack to finish cooling. Serves 12.